Sharing your pool username is necessary for Compass to configure your miner and to initiate hashing to your F2Pool account. F2Pool also has the ability to share watcher links which allows anybody with the link to view your pool account. While this is optional, it is useful for troubleshooting your machines as needed.
Here are the steps needed to locate your F2Pool username and watcher link: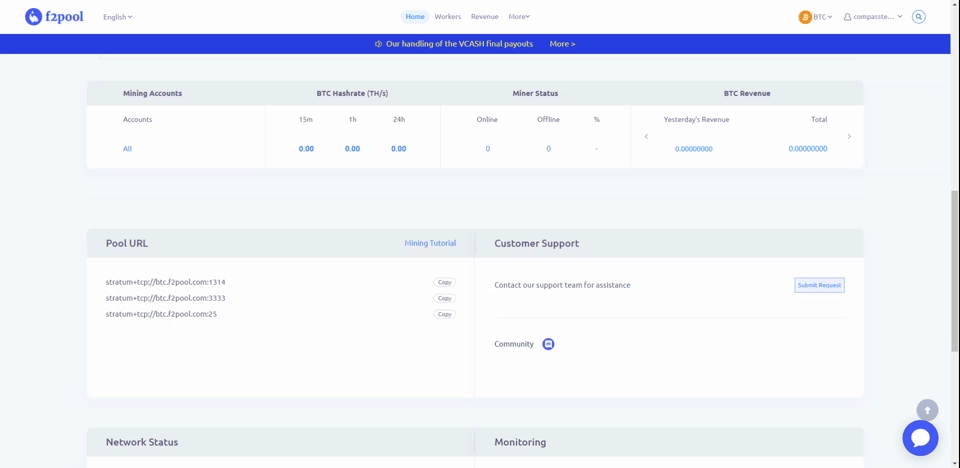 Log into your F2Pool account from https://www.f2pool.com/user/signin
In the top right select the drop down next to the magnifying glass.
This will reveal your F2Pool account username necessary to set up your miner.

'compasstest2' is the username in the animation above.

Within the drop down menu select 'Account Settings'.
Select the appropriate cryptocurrency you would like to share.
Select 'Read-Only Page'
In the popup window copy the 'Read-Only Page URL'

Providing this link is helpful for troubleshooting as it provides read-only access to your pool account.
Stratum Server URL's can be located here. The most commonly used for BTC are as follows:
stratum+tcp://btc.f2pool.com:3333
stratum+tcp://btc.f2pool.com:1314
stratum+tcp://btc.f2pool.com:25
It is suggested that you select one of these as your primary and the remainder for backup stratum servers. If a server goes down the miner will automatically move to the backup stratum and mining will continue uninterrupted.
COMPASS WILL NEVER ASK FOR YOUR POOL ACCOUNT PASSWORD! DO NOT EVER GIVE THIS OUT!