While there are many ways to contact Compass customer support the most effective way is to submit a support ticket. Direct messages, personal emails and social messages may get lost or forgotten while support tickets are properly documented and visible to our entire staff until resolved. This document is to show you how to properly submit a support ticket so that our team can quickly help you out.
You can always contact sales@compassmining.io for any sales related questions or support@compassmining.io for any general questions but sometimes this is not the ideal way to send a support ticket.
If you have a specific question about any of the following then you will want to navigate to our 'Contact Us' page and complete our request form. This can be found at the bottom of our compassmining.io website.
On this site you will be prompted to choose your issue from the drop down menu. You will be provided with a list of fields depending on your selection.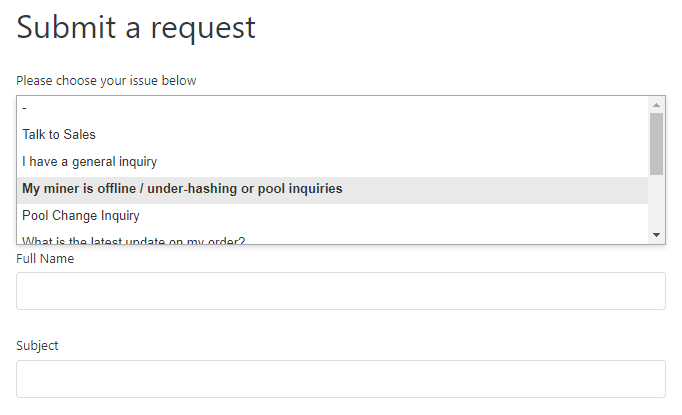 In this example we select 'My miner is offline/under-hashing or pool inquires'. The form will request additional information accordingly. It is very important to populate this information properly. Compass manages several thousand miners for our customers and it can be difficult to navigate every unique support ticket. Any information on additional information will help our customer support team trouble shoot your unique issue. The most important item would be 'Miner Worker Name' which is needed for our mining operations team to locate your machine and begin to root cause any concerns or inquiries. Without this information our team needs to spend extra time locating your account and the miner you are asking questions about or reach back out for more information which wastes everybody time.