This is a reference document for setting up, and managing your Braiins/Slush Pool account. We have assembled important information necessary to get started mining with Compass using Braiins/Slush Pool. If you have any questions regarding your miners we will be happy to help you but if you have technical questions or issues with your pool account you may need to reach out to Braiins/Slush Pool to get them resolved.
Slush Pool recently changed its name to Braiins Pool. See the official announcement here: https://pool.braiins.com/en/news/hello-braiins-pool
NOTE: COMPASS WILL NEVER ASK FOR YOUR POOL ACCOUNT PASSWORD! DO NOT EVER GIVE THIS OUT!
Contents:
Creating a Braiins/Slush Pool account
Visit Braiins/Slush Pool registration page and follow their registration instructions.
locate your Braiins/Slush Pool username
Sharing your pool username is necessary for Compass to configure your miner and to initiate hashing to your Braiins/Slush Pool account.
Approach #1
Log into your Braiins/Slush Pool account from https://pool.braiins.com/login/
In the top right you can view your pool username. Take note of this as it is necessary to direct hash rate to your account. In the image below "Compass_Test" is the pool username.

Approach #2
Log into your Braiins/Slush Pool account from https://pool.braiins.com/login/
Click on the Workers tab on the far left. If you are on a mobile phone you will have to select the 4 lines in the top left.
Click on the Connect Workers+ button.
Here you will see all information necessary to configure a miner. The username for this account is highlighted below (username1237).
Note: please ignore workername and password this will be assigned by Compass Mining during configuration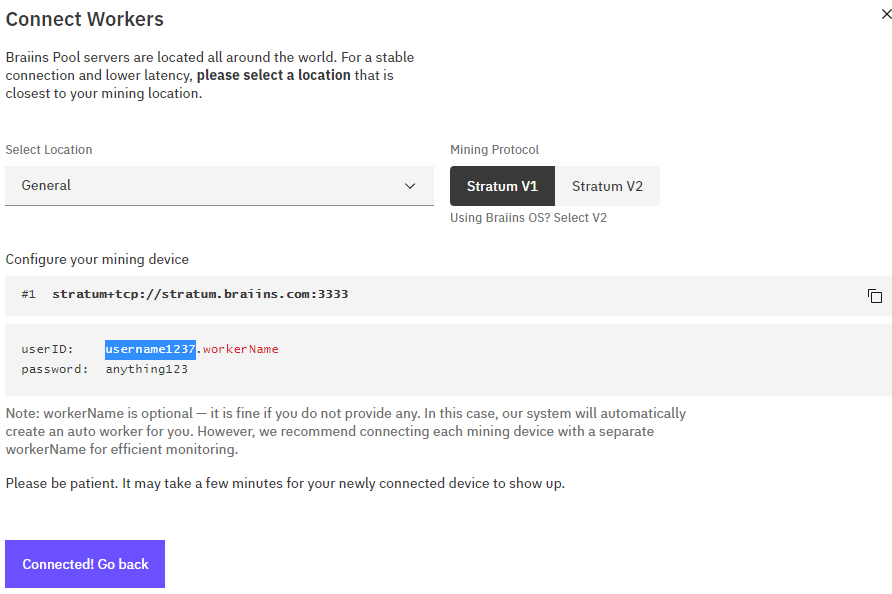 Stratum Server URLs
Stratum mining is a pooled mining protocol necessary to mine Bitcoin and cryptocurrencies. When configuring your miner we need to know what your mining pool's Stratum URL is so that we can properly configure the miner. Once entered your miner will be able to communicate with the corresponding mining pool. Depending on the pool you are using Compass will auto populate the Stratum URL. If you are using a less common pool then you will be responsible for locating and providing the Stratum URL upon request.
Stratum Server URL's can be located here. The most commonly used for BTC are as follows:
stratum+tcp://stratum.slushpool.com:3333

stratum+tcp://eu.stratum.slushpool.com:3333

stratum+tcp://us-east.stratum.slushpool.com:3333
It is suggested that you select one of these as your primary and the remainder for backup stratum servers. If a server goes down the miner will automatically move to the backup stratum and mining will continue uninterrupted.
Locate your Compass Wallet Deposit/Payout Address
The Compass Wallet can be accessed using the Compass Wallet button within your Dashboard. Here you will see a Deposit menu which can be used to fund your wallet. The wallet is the quickest and easiest way to pay Compass invoices or to buy new hardware. Any funds in the wallet can be converted or withdrawn at any time..
To use the deposit feature follow the steps and animations below:
Bitcoin Deposit:
Log into your Compass Account.
Navigate to the customer Dashboard.
Click on Compass Wallet.
Select the Deposit tab.
Select BTC - Bitcoin currency.
Press the Deposit button to see your wallet deposit address.
From your preferred Bitcoin, scan or paste in the Compass Wallet address.
Input the amount you would like to send and confirm. BTC deposit are batched twice a day, wait a few hours for the deposit to be shown in the Wallet.
NOTE: Bitcoin transactions will process after 3 confirmations and will be reflected in your wallet twice per day.
Setting up my Payout Address
All mining rewards will be sent to your mining pool account. Funds will remain here until you setup payouts. Once configured your funds will periodically be withdrawn to a designated wallet address. You can deposit to any wallet of your choice but for informational purposes here are instructions on how to deposit directly to your Compass Wallet. Currently we only support Bitcoin and USDC crypto deposits. Be sure to ensure you only deposit Bitcoin to your Bitcoin wallet.
Set up Bitcoin pool deposit:
Log into your Braiins/Slush Pool account from https://pool.braiins.com/login/
Select Funds at the top of the screen.
Select Wallets on the left.
Press the Add New Wallet button.
Name your wallet and paste in your wallet address.
Press the Add New Wallet button.
Confirm wallet creation by entering your password.
Click the Authenticate button.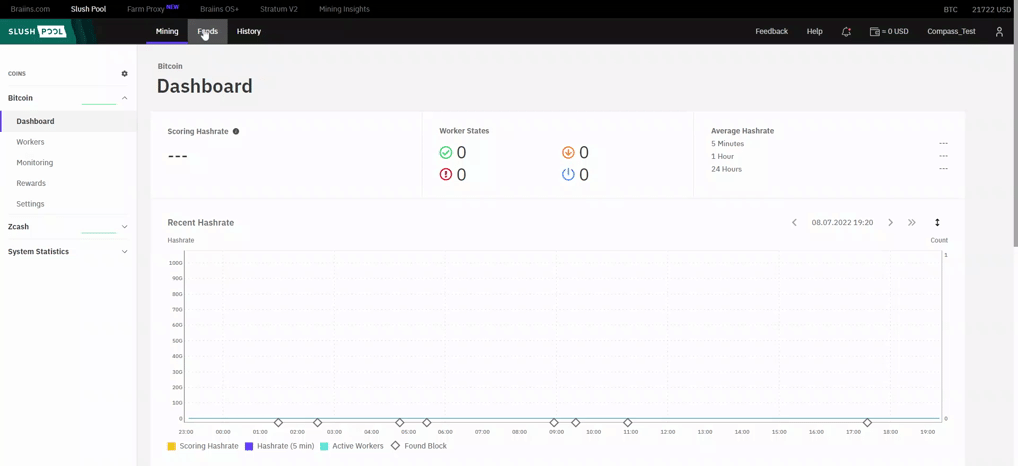 Pool Support
Compass will try to do everything it can to help you along your mining journey and we encourage customers to reach out with any questions they have regarding their miners and payouts. That being said we do use the existing mining pool structures that exist today and some questions we are unable to answer. If you have any pool specific questions questions or concerns please reach out to your corresponding mining pool for assistance. Braiins/Slush Pool's support can be found here.
Does Compass Support Braiins OS+ Firmware
Compass Mining hardware uses stock firmware directly from the Manufacture and does not support installing Custom on buy and host machines. Checkout our custom firmware article for more information.