Compass is happy to announce default mining pool feature located in the customer dashboard. For more information on Default Mining Pools review 'Where do I enter my mining pool information?' below or visit our Default Mining Pool FAQ's page.
What is a mining pool?
A mining pool is a group of miners that combine their hashrate to collectively mine bitcoin blocks.
Why should I use a mining pool?
When mining bitcoin, either at home or hosted with compass, it is important to pick a pool to ensure frequent payouts. While it is not required to mine with a pool, it is highly recommended. Mining with a pool ensures consistent payouts each day and reduces payout risk. An individual who solo mines has a low probability of successfully mining a block within a year. By mining with a pool, individuals will receive daily payouts proportional to the amount of hash they are contributing to the pool.
Choosing a mining pool?
There are a few things to consider when choosing a mining pool:
Pool Fee - How much does the pool charge to use their pool
Payout Structure - How are payouts handled for the users
Pool fees usually range between 1% and 5%. These fees are primarily used to cover operating expenses and can be found on the mining pool website.
Payout Structure is how a pool pays out the bitcoin rewards you have mined. Understanding which payout structure you prefer will help in picking a pool to meet your needs. The primary differences to look out for are whether a pool will pay you per block found by the pool or if it will pay you out daily regardless of blocks found. In either case, the rewards should even out over time but the variance risk of mining a block is covered by the miner or the pool.
Fore more considerations when choosing a pool refer to our 'How do I choose a mining pool?' article.
Where do I enter my mining pool information?
Once you have created a Compass account you will be able to save a 'Default Mining Pool' in your customer dashboards. This is required to configure your miner to your pool account and should be done promptly. This pool information will be used to configure your machine(s) when it is installed at the corresponding mining facility. Customers who do not enter their default pool information will be at risk of mining delays.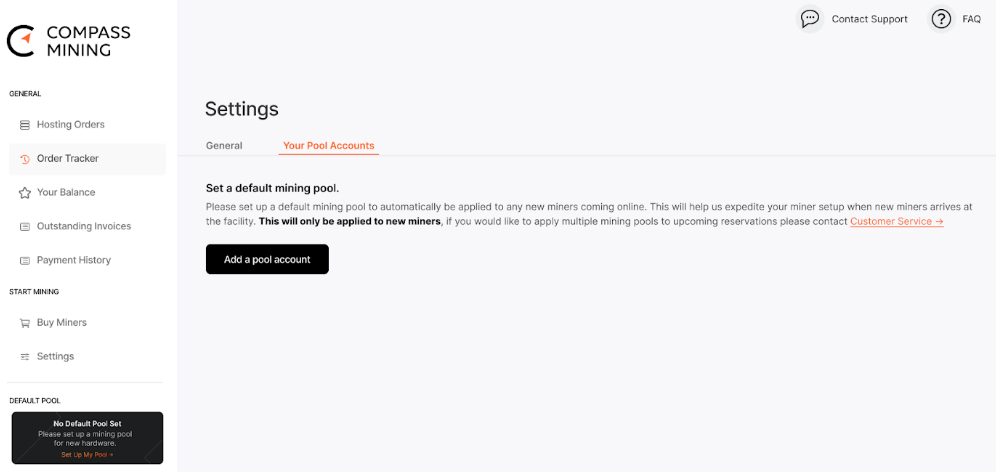 What pool information is needed?
After choosing a pool you will need to make an account and provide Compass with the following information.
Pool choice - Knowing the pool you have chosen allows us to point miner(s) hash rate to correct location or Stratum URL.
Username - The username is needed to ensure that your hash rate is going to the correct pool account.
Watcher link or read-only access (Optional) - This provides view access to the pool account which is useful for Compass to troubleshoot issues and answer questions.
API key (Optional) - As we build out the customer dashboard the API key will be used to compile customer miner and hash rate data directly on the customers dashboard creating a one stop view of your miners, and hosting statuses.
Where do I find my pool information?
This information will be entered into the miners configuration page. Once completed you will see the miner(s) appear on your pool account page. If you need help finding this information please use the reference links below:
If you are using a pool that is not listed in the dashboard then you will need to select 'Other Pool' and provide the following. If you need help locating this information refer to the mining pool's support team for assistance.
Pool stratum URL
Username
Watcher link or read-only access (Optional)